Those times when it took you so long to post an update that you don't know where to start lol…
So let's start where my mind is taking me… today… Today marks the second anniversary of my dearest departed friend Brad… the morning I received the dreaded phone call from him brother to let me know that Brad is no more… what happened after that is history… the next day I was in hospital and that week they told me that I have Lupus… all details that's edged in my mind as if it happened yesterday… along with all the what if's… what if I wasn't so emotional over my friends death…what if I didn't know he died… what if I never got sick… needless to say all the what if's are getting me nowhere… its pointless lol…
So today I am taking strain because even if I don't want to think about the past its in my system… I feel the tears coming and coming and I remember those days I drove to hospital to visit him… I was driving and wasn't crying but tears kept on running down my cheeks… its like that today… talking to someone and a tear will fall… I think with the disease and everything that's been happening it's a reality check and a reminder of how fragile and how short life is I guess…
So I am missing everyone who made a impact in my life who made me who I am today… I am celebrating them and im enjoying all the sweet memories but first prize would be having them here with me… I still feel as if they just left me… and I don't like it…
Ok so Lupus SA NPO didn't do anything for Lupus awareness day this year… we just did the POP thing "PUT ON PURPLE" and we smiled and waved. Lupus SA is taking strain lol… we are in serious debate about where we are going and why… we are questioning the way forward… is the fighting still worth it… am I making a dent in society by means of my contribution to awareness?… so I just gave up in a way… I posted less… I didn't blog… I didn't plan anything… I just kept to myself in my corner and focussed on getting better.
Sometimes having Lupus just hurt so much and it robs me of my joy… my positivity… my smile and my fight. I will say it again… I don't expect life to stop and be in pain with me… but not having more support makes a huge difference as to how far I can go… how big I can dream… how hard I can push…
I am not alone… make no mistake… I am merely referring to sponsors… support from society, etc. I am very weary of what I do and what I plan as I know the pressure it puts on those close to me… and of my own health… I don't want to get sicker because I am stressing over things.
I do find it more and more difficult to stay positive… I knew it would come to this point… remember its been 2 years… 24 months of being diagnosed, in hospital more than 15 times within 12 months, having to move out of my house, not being able to look after my kids, not being able to cook do laundry and continue as normal, fighting hard to keep my job, surviving unsuccessful chemotherapy and and and… it took its toll… now I'm tired… not depressed just tired…
Yes I want to raise awareness but my first priority would be myself then my kids and then keeping my job… when the priorities are right then things can happen… ok maybe not so fast… if Lupus is in its box then things can happen and Lupus haven't been in its box lol…
I have been struggling with what the gp said an middle ear infection… its been going on for 3 months without end… more fatigue, dizziness, pounding headaches and just a general overwhelming sick feeling…  so we went from motion sickness meds to blood pressure meds analysis to almost in hospital… luckily my Nephrologist dr. Arendse saved the day as usual… but I lost a lot of days at home due to all these issues…
My blood pressure are out of control and that makes it very hard… if im not dealing with that… then its super low… so im being a good girl and taking my 4 blood pressure tablets as prescribed then life happens, work, kids, worries and and and… so it either goes too high or too low… both extremes having its own lot of issues… due to my kidney problems I cant have it too high or too low… I will go into kidney failure…
I am not having any more swelling / oedema issues… so im so happy about that as I am doing everything that I am supposed to and always look for ways to improve…#happy
Currently I am on the "I am Ash" bus and im very happy… I feel content… I am in a good space regardless of all the happenings… I am ok with the decisions and calls that ive made personally… its helping me a lot… the best advice I can give is that if something or someone is making you sick and toxic … REMOVE it from your life… it doesn't matter who it is… I deserve better and I need to protect myself so OFF you go! … #crueltobekind
I am pushed to the max… I am being challenged to a level unimaginable … I've been humbled… ive been stripped… I am changed… but I am learning every single day…
I still can't do long walks, I still struggle with stiffness, arthritis is getting worst, I still can't sleep at night, I am in pain, I still can't work a full day after 14h00 I feel stupid and sick,  I am still struggling from extreme fatigue and the list goes on and on… but…
I've learned to rejoice over small things… I could go to the gym, I did the dishes, I did my laundry, I can pay someone to fix something in my house, I can be at work today, I got to see my kids today, I have medication to take, I am receiving a partial disability grant, I am almost perfecting the skill to live only for today… so yes I am going nowhere slowly but I prefer to focus on the nice and positive things happening in my life… the biggest off course my 2 beautiful kids… I am nothing without them… I cant plan, I cant fight I am zero… so if it wasn't for them I would not have been here… I started fighting when I looked in their eyes out of my hospital bed… time after time after time… those worried but loving eyes… the same eyes that switch on the light in the morning to wake me up but more to look into my eyes and face… "you are swollen let me bring you a warm cloth for your face" or " take the continental pillow so that your upper body can be bit higher to help with the swelling"… "mum let me go to the shop for you just sms me the shopping list" and so on lol… how do I say thank you to my angels???
At work they surprised me on the 10th of May by all wearing Purple and having posters on the walls and passages for all to read and share… how amazing is that?… so yes… things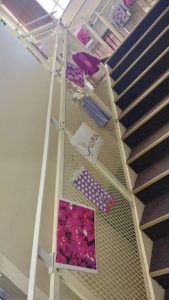 are happening maybe not by my hand but by my initiative and i must stop being so hard on myself… Just me being here is a raising awareness for Lupus… and when im not here at work then they all know its Lupus…
June will be my 2nd year with Lupus and a lot has happened… i am celebrating my life…squeezing every bit out of my day even if it it out of bed…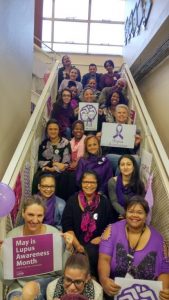 I have my family… and my friends who became my family and there's nothing more that I want or need… with them in my life I am covered…